LPX
 Whole House Reverse Osmosis Systems for City, Town, and Village Applications.
System Overview for Walker's Water Systems
Higher Pressure Reverse Osmosis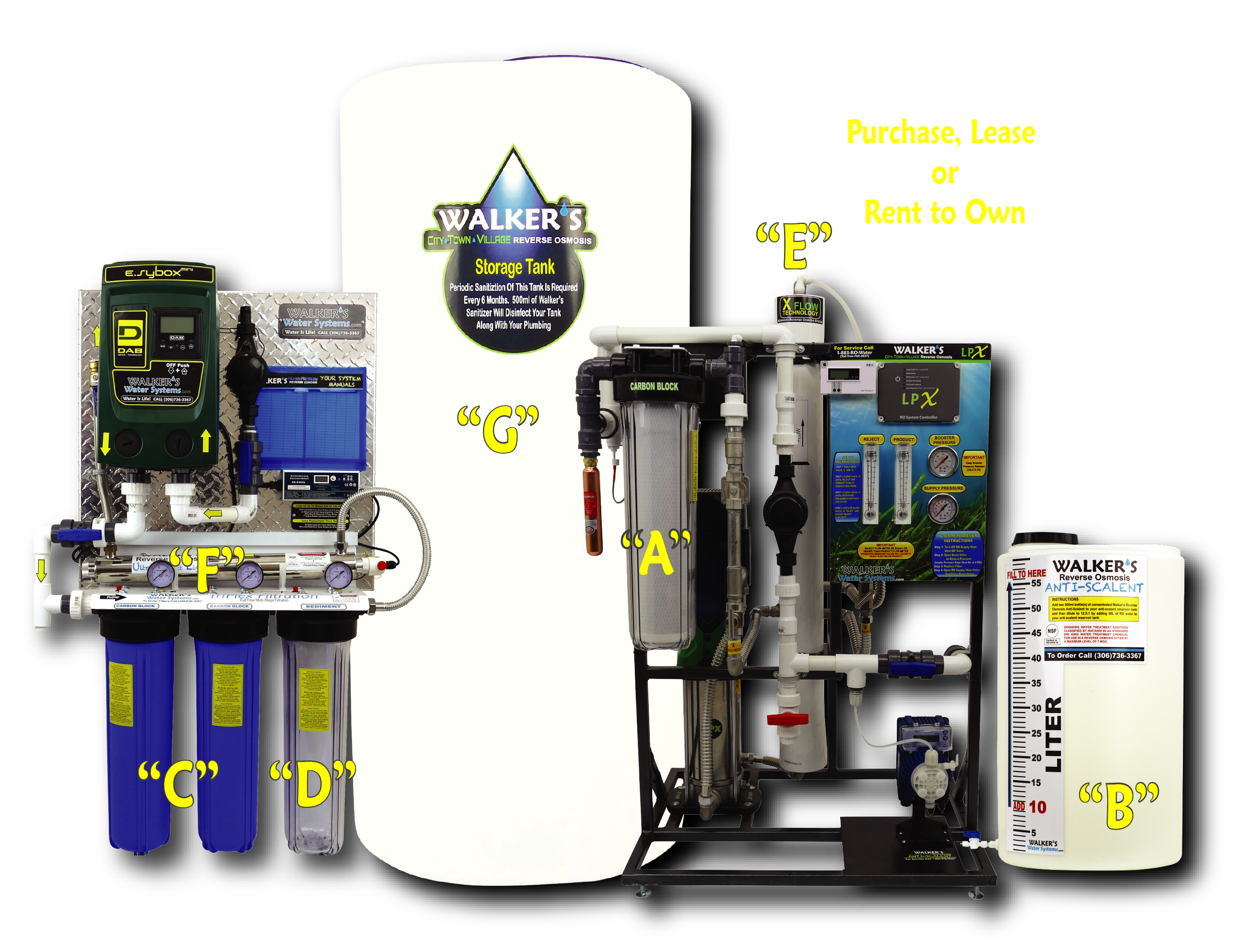 A – We make sure your system is clean and running like it should.
B – We bring you more Anti-Scalent and fill your Anti-Scalent tank
C & D – We change your Triplex filters, disinfect and clean the bowls
G – We add disinfectant to your water tank to keep your house lines clean
E – We check the membrane(s) and change when needed
And once a year on the 6 month visit….
F – We Change the UV light
We make sure your system is clean and running like it should.
We Service Every 6 Months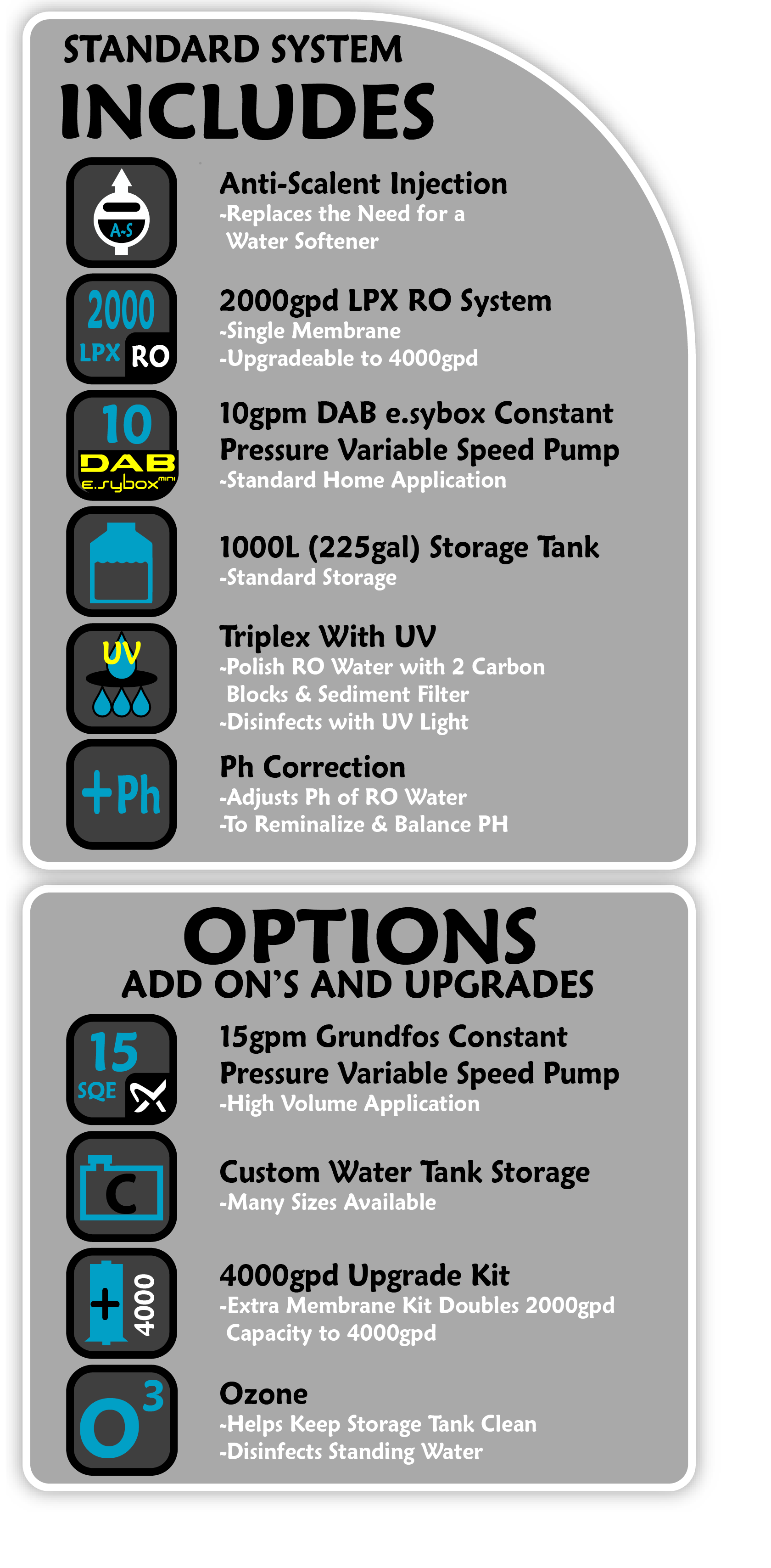 – Chlorine
– Sodium
– Calcium
– Lead
– Copper
– Mercury
– Heavy Metals
– Fluoride
– Sulfates
– Nitrates
– Bacteria
– Viruses
– Parasites
– Cysts
– Algea
– Chemicals
– Pestacides
– Arsenic
– Uranium
– Tannins
Providing safe, pure, healthy remineralized & pH-balanced water
No more:
• Water Softener and Heavy Bags of Salts
• Harmful Chlorine
• Hauling Heavy Jugs of Water
• Spots or Scale on Fixtures and Appliances
Contact Walker's Water Systems About Your Free Consultation Today
"Great job and great water! We have one and we love it."

~Edward K.

Montmartre, SK
"It's really nice to be able to drink out of the tap for the first time in two years."
~Darryl and Barb M.
Belmont, MB
"You will always be busy. It's the best water with your RO system. No hauling softener salt anymore and no more buying chlorine.
I love the new system."
~Ed W.
Macrorie, SK
"We had Brent and Blair out to Hilda, Alberta. Great guys and this RO system sure is impressive.
The workmanship is second to none. Professional guys that do a great installation. Wes, the sales guy, is also second to none. He was able to answer any question and he answers his phone on weekends.
So far, up-to-date our experience has been terrific. Keep up the good works guys!"
~John S.
Hilda, AB
"We love our Walker Water System...and their service is to us has been amazing!
THAT is why I always make cookies for them when they come to our farm."
~Cathy T.
Frontier, SK
"We love our Walkers Water System! Their service is top notch."
~Maria Macmillan
Moosomin, SK
"Best money I ever spent."
Jamie K
Grenfell, SK
"Cleanest water to our new home. We love our Walkers Water System.
~Bailey G.
"Awesome water and service. Highly recommend Walker's Water Systems!"
~Jen M.
"Wow! Amazing!
I had terrible stinky water and they have made it clear and drinkable! Amazing service."
~Jennie W.
Address
409 Railway St
Kipling, SK S0G 2S0